An unforgettable journey into the world of Beauval
If your child is 8 to 12 years old, why not give them a unique experience: a total immersion into the ZooParc de Beauval world for 3 days!
You child will discover the animal species living in the park over 3 half-days, whilst accompanied by one of our keeper-facilitators; they will take part in feeding the animals, creating enrichments, DIY projects, and other hands-on activities.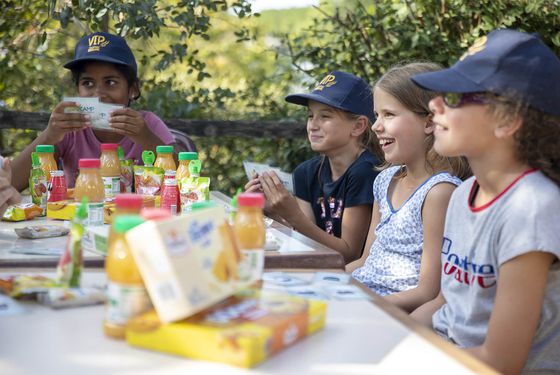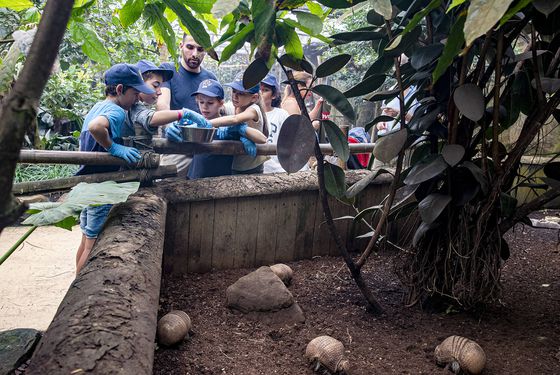 3 wonder-filled days, in contact with the animals!
Zoo'Camp
Zoo'Camp - Duration 3 days
From 18th April to 8th August
---
The programme
Monday – 9 a.m. to 2 p.m.
Our Zoo Campers share a breakfast including delicious Saint Michel products before discovering the ZooParc during a treasure hunt requiring teamwork
Lunch at the Kilimandjaro restaurant from 12 p.m. to 1 p.m
After this lunch break, our explorers set up an enrichment for the meerkats and give a snack to the red river hogs, ending the day's activities.
Tuesday – 10 a.m. to 3 p.m.
This morning's programme includes feeding the animals and giving enrichments:

Discovering birds from the greenhouse and an introduction to drawing techniques with one of our illustrators. The children will get to give treats to anteaters
Lunch at the Kilimandjaro restaurant from 12 p.m. to 1 p.m
Construction of shelters for local fauna (insect hotels, nest boxes, hedgehog houses, etc.) and feeding gorillas.

Wednesday – 9 a.m. to 2 p.m.
To start this last day, your child will discover the world of the mini farm and will then get to create enrichments for the lion-tailed macaques, bears, and okapis
Lunch at the Kilimandjaro restaurant from 12 p.m. to 1 p.m
The journey ends with a visit to the savannah building and the feeding of the giraffes.
---
sold out.
---
Free consecutive 3-day ticket. 3 lunches and 1 breakfast included.
Online payment by credit card only.
For payment by check, contact us on +33 2 54 75 5000.
Your booking will be definitively validated upon receipt of payment.

How can I book?

On the website: https://billetterie.zoobeauval.com

If you do not have a credit card: contact us on 0254 755 000. Your booking will be definitively validated upon receipt of payment by check.

How do I use my gift voucher?

- Go to the web page for the activity for which you have a gift voucher
- Select your desired time slot
- Pay with your gift voucher in the field provided
What can I bring on the day of the activity?

Do not hesitate to bring a camera if you wish to take photos as a souvenir of your activity. Participants remain responsible for any such items.
Restrictions

Activity reserved for children aged 8 to 12. Groups of 8 children maximum with a keeper-facilitator.


The programme is published for information purposes only. It is subject to change between your date of purchase and your date of participation in the activity. It may also be modified according to weather conditions.

or for reasons related to the well-being of our animals.

The activities and gift vouchers are neither exchangeable nor refundable. If you have any questions, contact us on 0254 755 000 or centre.contact@zoobeauval.com.

Stoppage of the activity

Each participant must strictly adhere to the safety instructions and the ZooParc de Beauval's internal rules and regulations.


In the event of non-compliance with these instructions, the Management reserves the right to stop the activity at any time, without reimbursement.

Departure

Each day make sure to arrive 15 minutes before the activity starts, our facilitator will be waiting for you in the forecourt, behind the ZooParc's tills.