Our commitments to the environment
For the past 42 years, the ZooParc has been addressing ecological issues and implementing numerous actions to limit its ecological footprint. Find out about all these actions, including our biogas plant, which creates energy from the park's manure.

Actions for a better tomorrow
Printing on recycled paper
With "Imprim'vert" certified printers

Shower gel and shampoo dispensers
Less waste and reduction of plastic waste

Weeding by hand
No herbicides or chemical weedkillers used!

Rainwater harvesting
Put in place for all impervious surfaces (car parks, tarmacked pathways, roofs) and used for watering

1,630 new bars of soap reformed
Using 187 kg of soap scraps collected in 2019

Favour local and seasonal fruits & vegetables
Both for visitors and the animals

AQUAchiara © filtered water at the hotels
Reuse of glass bottles to avoid the use of plastic bottles

Biodegradable tableware at food outlets
Plates, cutlery, cups, napkins, straws…

Natural cleaning products
Organic bed linen and sponges
Compostage et réutilisation des végétaux
Les branches et déchets verts sont partiellement broyés pour être utilisés en paillage ou amendement
Protection Biologique Intégrée
avec des insectes auxiliaires (aucun insecticide)
Comprehensive action for ethical tourism!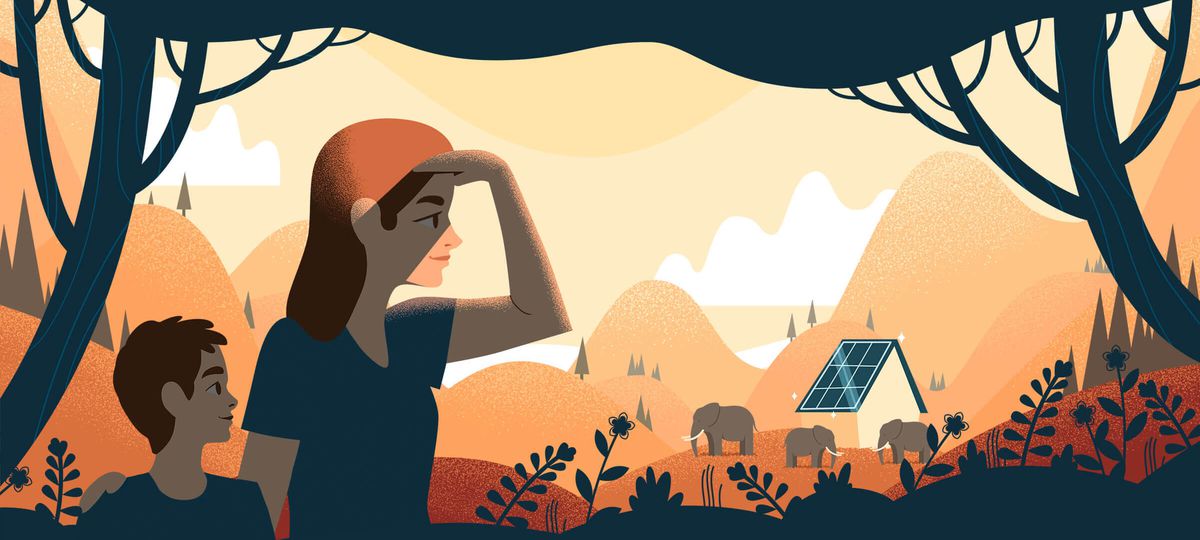 Renewable energy production
By recycling its green waste and producing a portion of its electricity, the ZooParc de Beauval is committed to responsible management and to having a minimal impact on the environment.

Reducing greenhouse gas emissions
Producing local green energy
Reducing energy costs for the ZooParc de Beauval
The particularities of a zoological park have allowed us to implement several solutions for the creation of renewable energy. The elephant building, for example, is covered with 3,000 m² of solar panels. Even organic waste is utilised at Beauval!

Since 2014, the biogas plant has been used to transform the ZooParc's manure into energy, which is used to heat various spaces, such as the gorilla greenhouse.
Through these methods, the ZooParc was able to reduce its greenhouse gas emissions by a CO2 equivalent of nearly 1,107 tonnes and produce more than 1.9 GWh of electricity. This is the equivalent of more than 300 households.


Recycling mobile phones to preserve gorillas
The ZooParc acts to try to stop the population decline of great apes in Africa by collecting used mobile phones from the general public. You can take action to help the gorillas too!

The extraction of coltan, a valuable ore, is responsible for accelerated deforestation in Africa and, as a consequence, the threat of extinction that hangs over local species, particularly gorillas.
Since 2011, the ZooParc de Beauval and the Beauval Nature association have collected mobile phones to recycle the coltan. Place your old smartphones in the urn located at the entrance of the park and participate in the protection of the great apes with one simple act.

More than 9,270 mobile phones have already been recycled at Beauval

At Beauval, we also recycle: some of the leftovers from meals in the biogas plant (bread, pastries, orange peel), glass, paper, the ink cartridges from our printers, the cooking oils used in the kitchens, used batteries, mobile telephones, old uniforms (given to the "Le Relais" association), furniture (given to the "Emmaüs" association), cigarette butts…